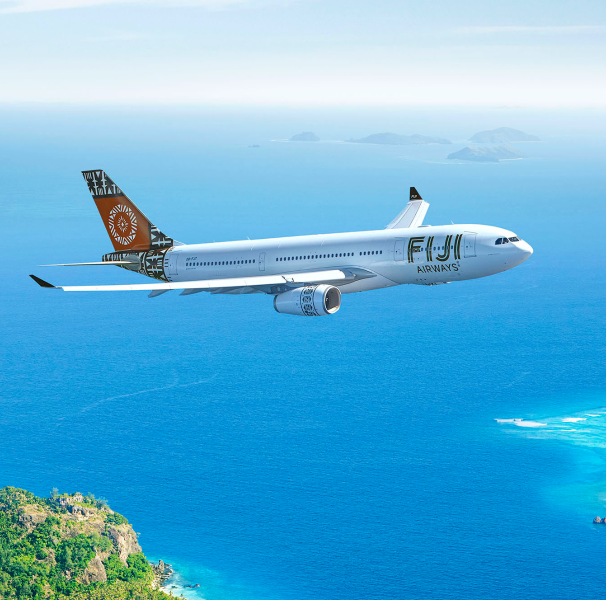 At a glance
21

destinos

13

Countries/Territories

Tabua Club Plus

Programa Viajero Frecuente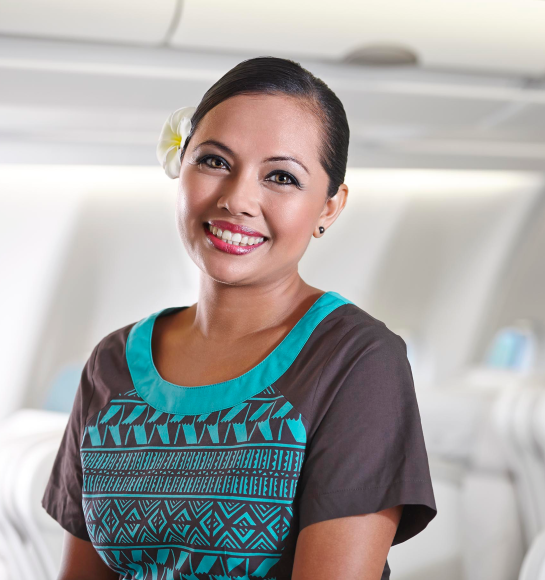 Pick and cruise.
El grupo opera una flota de 16 aeronaves, incluyendo cuatro Airbus A330 y cinco Boeing 737 de próxima generación, ofreciendo un producto de dos clases, Business y Economy en la mayoría de las rutas internacionales, incluyendo asientos que se convierten en camas reclinables en vuelos intercontinentales.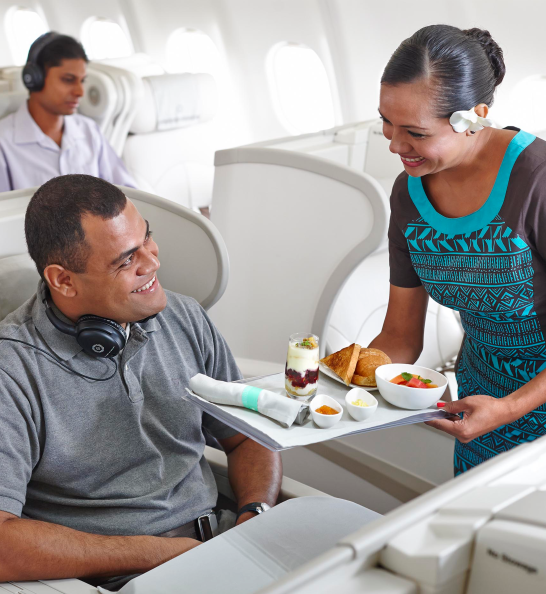 Privileges, points and more.
oneworld connect partners provide select alliance benefits to frequent flyers from any oneworld member airline travelling on their flights, with a more extensive range of benefits offered with a subset of oneworld member airlines, known as their "oneworld sponsors".
As a member of Fiji Airways Tabua Club Plus you will receive priority check-in, priority boarding and lounge access (with 1 guest) on eligible flights when travelling on oneworld connect partners American Airlines, British Airways, Cathay Pacific and Qantas Airways.
Lounge Access.
Indulge yourself before departure when travelling on a oneworld connect journey involving Fiji Airways and a oneworld sponsor, either British Airways, Cathay Pacific or Qantas Airways.
Ubicación

Hong Kong (HKG)
Access while travelling
CX flight number/code (FJ operated service):

HKG to NAN
CX flight number/code & CX operated service:

HKG-SIN / HKG-BKK
Requisitos
Diamond Tier
First/Business Class Lounge:

Eligible + 2 guests
Gold Tier
Business Class Lounge:

Eligible + 1 guest
Access while travelling
CX flight number/code & CX operated service:

BKK-HKG
Access while travelling
CX flight number/code & CX operated service:

SIN-HKG
Access while travelling
CX flight number/code (FJ operated service):

NAN to HKG
CX flight number/code (FJ operated service):

HKG - NAN
Access while travelling
QF flight number/code (QF or FJ operated services)
Ubicación

Melbourne (MEL)
Access while travelling
QF flight number/code (QF or FJ operated services)
Access while travelling
QF flight number/code (QF or FJ operated services)
Access while travelling
QF flight number/code (QF or FJ operated services)
Access while travelling
QF flight number/code (QF or FJ operated services)
Access while travelling
QF flight number/code (QF or FJ operated services)
Ubicación

Wellington (WLG)
Access while travelling
QF flight number/code (QF or FJ operated services)
Ubicación

Los Ángeles (LAX)
Access while travelling
QF flight number/code (QF or FJ operated services)
Access while travelling
QF flight number/code (QF or FJ operated services)
Ubicación

Tokyo - Narita (NRT)
Access while travelling
QF flight number/code (QF or FJ operated services)
Ubicación

London - Heathrow (LHR)
Access while travelling
QF flight number/code (QF or FJ operated services)
Ubicación

Hong Kong (HKG)
Access while travelling
QF flight number/code (QF or FJ operated services)
Access while travelling
QF flight number/code (QF or FJ operated services)
Access while travelling
QF flight number/code (FJ operated service):

NAN to AU/ NZ/ US
Ubicación

Singapore - Changi (SIN)
Access while travelling
BA flight number/code (FJ operated service):

NAN to HKG/LAX/SFO/ SIN/ NRT
Access while travelling
BA flight number/code (FJ operated service):

NAN to HKG/LAX/SFO/ SIN/ NRT
Ubicación

Hong Kong (HKG)
Access while travelling
FJ flight number/code (CX operated service):

HKG-SIN / HKG-BKK
CX flight number/code & CX operated service:

HKG-SIN / HKG-BKK
Access while travelling
FJ flight number/code & CX operated service:

BKK-HKG
CX flight number/code & CX operated service:

BKK-HKG
Access while travelling
FJ flight number/code & CX operated service:

SIN-HKG
CX flight number/code & CX operated service:

SIN-HKG
Access while travelling
QF flight number/code (QF or FJ operated services)
FJ flight number/code (FJ or QF operated services)
Ubicación

Melbourne (MEL)
Access while travelling
QF flight number/code (QF or FJ operated services)
FJ flight number/code (FJ or QF operated services)
Access while travelling
QF flight number/code (QF or FJ operated services)
FJ flight number/code (FJ or QF operated services)
Access while travelling
QF flight number/code (QF or FJ operated services)
FJ flight number/code (FJ or QF operated services)
Access while travelling
QF flight number/code (QF or FJ operated services)
FJ flight number/code (FJ or QF operated services)
Access while travelling
QF flight number/code (QF or FJ operated services)
FJ flight number/code (FJ or QF operated services)
Ubicación

Wellington (WLG)
Access while travelling
QF flight number/code (QF or FJ operated services)
FJ flight number/code (FJ or QF operated services)
Ubicación

Los Ángeles (LAX)
Access while travelling
QF flight number/code (QF or FJ operated services)
FJ flight number/code (FJ or QF operated services)
Access while travelling
QF flight number/code (QF or FJ operated services)
FJ flight number/code (FJ or QF operated services)
Ubicación

Tokyo - Narita (NRT)
Access while travelling
QF flight number/code (QF or FJ operated services)
FJ flight number/code (FJ or QF operated services)
Ubicación

London - Heathrow (LHR)
Access while travelling
QF flight number/code (QF or FJ operated services)
FJ flight number/code (FJ or QF operated services)
Ubicación

Hong Kong (HKG)
Access while travelling
QF flight number/code (QF or FJ operated services)
FJ flight number/code (FJ or QF operated services)
Access while travelling
QF flight number/code (QF or FJ operated services)
FJ flight number/code (FJ or QF operated services)
Access while travelling
CX flight number/code (FJ operated service):

NAN-HKG
QF flight number/code (FJ operated service):

NAN to AU/ NZ/ US
BA flight number/code (FJ operated service):

NAN to HKG/LAX/SFO/ SIN/ NRT
FJ flight number/code & FJ operated service